2009年国际商务单证员(单证操作与缮制)真题试卷
总分:

150分

类型:

历年真题

费用:

5学币

解析:

有

练习:

59 次

时间:

150分钟
试卷预览
根据合同内容审核信用证,指出不符之处并提出修改意见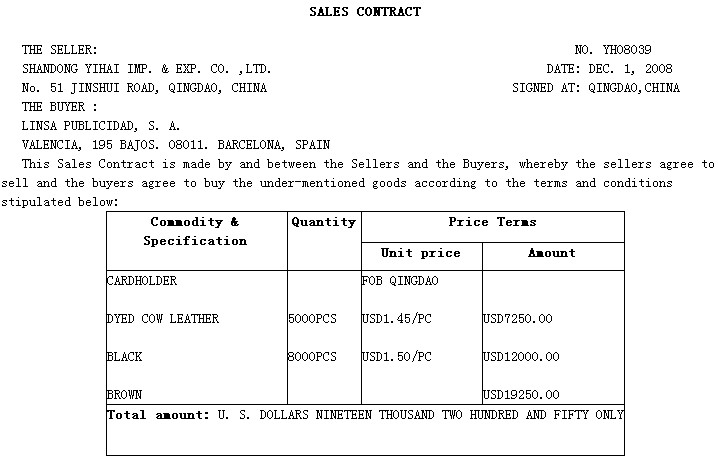 Packing: 1PC/POLYBAG, 500PCS/CTN Shipping Mark: L. P.Time of Shipment: DURING JAN. 2009 BY SEA BARCELONA NOS. 1-26 Loading Port and Destination: FROM QINGDAO TO BARCELONA Partial Shipment and Transshipment: ALLOWED Insurance: TO BE EFFECTED BY THE BUYER Terms of Payment: THE BUYER SHALL OPEN THROUGH A BANK ACCEPTABLE TO THE SELLER AN IRREVOCABLE SIGHT LETTER OF CREDIT TO REACH THE SELLER 30 DAYS BEFORE THE MONTH OF SHIPMENT AND TO REMAIN VALID FOR NEGOTIATION IN CHINA UNTIL THE 15th DAY AFTER THE FORESAID TIME OF SHIPMENTISSUE OF DOCUMENTARY CREDIT27 :SEQUENCE OF TOTAL: 1/1 40A: FORM. OF DOC. CREDIT : IRREVOCABLE 20: DOC. CREDIT NUMBER: 103CD137273 31C: DATE OF ISSUE: 081215 40E: APPLICABLE RULES :UCP LATEST VERSION 31D: DATE AND PLACE OF EXPIRY: DATE 090202 PLACE IN SPAIN 51D: APPLICANT BANK: BANCO SANTANDER, S. A. 28660 BOADILLA DEL BARCELONA, SPAIN 50: APPLICANT:LINSA PUBLICIDAD, S. A. VALENCIA, 195 BAJOS. 08011. BARCELONA, SPAIN 59: BENEFICIARY: SHANDONG YIHAN IMP. &EXP. CO. , LTD. No. 51 JINSHUI ROAD, QINGDAO, CHINA 32B: AMOUNT:CURRENCY EUR AMOUNT 19250.00 41A: AVAILABLE WITH...BY ANY BANK IN CHINA BY NEGOTIATION 42C: DRAFTS AT... 30 DAYS AFTER SIGHT 42A: DRAWEE: LINSA PUBLICIDAD, S. A. 43P: PARTIAL SHIPMTS: NOT ALLOWED 43T: TRANSSHIPMENT: NOT ALLOWED 44E: PORT OF LOADING: ANY CHINESE PORT 44F: PORT OF DISCHARGE: VALENCIA, SPAIN 44C: LATEST DATE OF SHIPMENT: 090115 45A: DESCRIPTION OF GOODS GOODS AS PER S/C No. YH08036 DATED ON DEC. 1, 2008 CARDHOLDER DYED COW LEATHER BLACK COLOUR/8000PCS AT USD1.45/PC FOB QINGDAO BROWN COLOUR/5000PCS AT USD1.50/PC FOB QINGDAO PACKING: 200PCS/CTN 46A: DOCUMENTS REQUIRED 1. SIGNED COMMERCIAL INVOICE IN 3 COPIES 2. CERTIFICATE OF ORIGIN GSP FORM. A ISSUED BY OFFICIAL AUTHORITIES 3. PACKING LIST IN 3 COPIES 4.FULL SET CLEAN ON BOARD BILLS OF LADING MADE OUT TO ORDER MARKED FREIGHT PREPAID AND NOTIFY APPLICANT 5.INSURANCE POLICY/CERTIFICATE IN DUPLICATE ENDORSED IN BLANK FOR 110% INVOICE VALUE COVERING ALL RISKS AND WAR RISK AS PER CIC 47A: ADDITIONAL CONDITIONS BILL OF LADING ONLY ACCEPTABLE IF ISSUED BY ONE OF THE FOLLOWING SHIPPING COMPANIES: KUEHNE-NAGEL (BLUE ANCHOR LINE) VILTRANS (CHINA) INT'L FORWARDING LTD. OR VILTRANS SHIPPING (HK) CO., LTD. 71B: CHARGES: ALL CHARGES ARE TO BE BORN BY BENEFICIARY 48: PERIOD FOR PRESENTATION: WITHIN 5 DAYS AFTER THE DATE OF SHIPMENT, BUT WITHIN THE VALIDITY OF THIS CREDIT 49: CONFIRMATION INSTRUCTION: WITHOUT 经审核该信用证需要修改的内容如下:
根据已知资料指出下列单据中错误的地方1. 已知材料1:SALES CONTRACT ContractNO.: NJT090218 Date; FEB. 18, 2009 Signed at: Nanjing, China The Seller: NANJING JINLING TEXTILE CO. , LTD. Address: UNIT A 18/F, JINLING TOWER, No. 118 JINLING ROAD, NANJING, CHINA The Buyer:DEXICA SUPERMART S. A. Address; BOULEVARD PACHECO 44, B-1000 BRUSSELS, BELGIUM This Sales Contract is made by and between the sellers and the buyers, whereby the sellers agree to sell and buyers agree to buy the under-mentioned goods according to the terms and conditions stipulated below:

10% more or less in quantity and amount are acceptable.Packing: IN CARTON Shipping Mark : N/MTime of Shipment: Within 30 days after receipt of L/C.From NINGBO PORT CHINA to BRUSSELS, BELGIUMTransshipment and Partial Shipment: AllowedInsurance; To be effected by the Seller for 110% of full invoice value covering all risks up to port of destination and war risks included with claim payable at destination.Terms of Payment: By 100% Irrevocable Letter of Credit in favor of the Sellers to be available by sight draft to be opened and to reach China before APRIL 1, 2009 and to remain valid for negotiation in China until the 21 days after the foresaid Time of Shipment. L/C must mention this contract number L/C advised by BANK OF CHINA JIANGSU BRANCH. ALL banking Charges outside China are for account of the Buyer.The Seller The BuyerNANJING JINLING TEXTILE CO. , LTD. DEXICA SUPERMART S. A.钟山 ALICE已知资料(2):1. 装运信息: 指定APE承运,装期2009.04.19;船名PRINCESS;航次V.018装箱资料:合计108箱,装入1×20'集装箱商业发票号:NJT090218-09,签发日期2009年4月10日信用证号:CMKK9180205(1)一般原产地证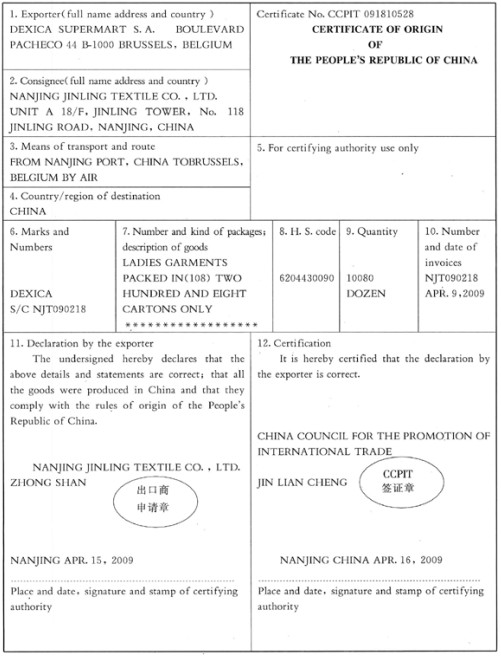 (2) 保险单中国人民保险公司江苏省分公司THE PEOPLE'S INSURANCE COMPANY OF CHINA JIANGSU BRANCH货物运输保险单CARGO TRANSPORTATION INSURANCE POLICY发票号(INVOICE NO.) NJT090218-09 保单号次 PYIE2006080合同号(CONTRACT NO.) NJT090218 POLICY NO.信用证号(L/C NO.): CCPIT 091810528被保险人: Insured: NANJING JINLING TEXTILE LTD.中国人民保险公司(以下简称本公司)根据被保险人的要求,由被保险人向本公司缴付约定的保险费,按照本保险单承保险别和背面所载条款与下列特款承保下述货物的运输保险,特立本保险单。THIS POLICY OF INSURANCE WITNESSES THAT THE PEOPLE'S INSURANCE COMPANY OF CHINA (HEREINAFTER CALLED "THE COMPANY") AT THE REQUEST OF THE INSURED AND IN CONSIDERATION OF THE AGREED PREMIUM PAID TO THE COMPANY BY THE INSURED, UNDERTAKES TO INSURE THE UNDERMENTIONED GOODS IN TRANSPORTATION SUBJECT TO THE CONDITIONS OF THIS OF THIS POLICY ASPER THE CLAUSES PRINTED OVERLEAF AND OTHER SPECIL CLAUSES ATTACHED HEREON.